Bert (HJ) Kappen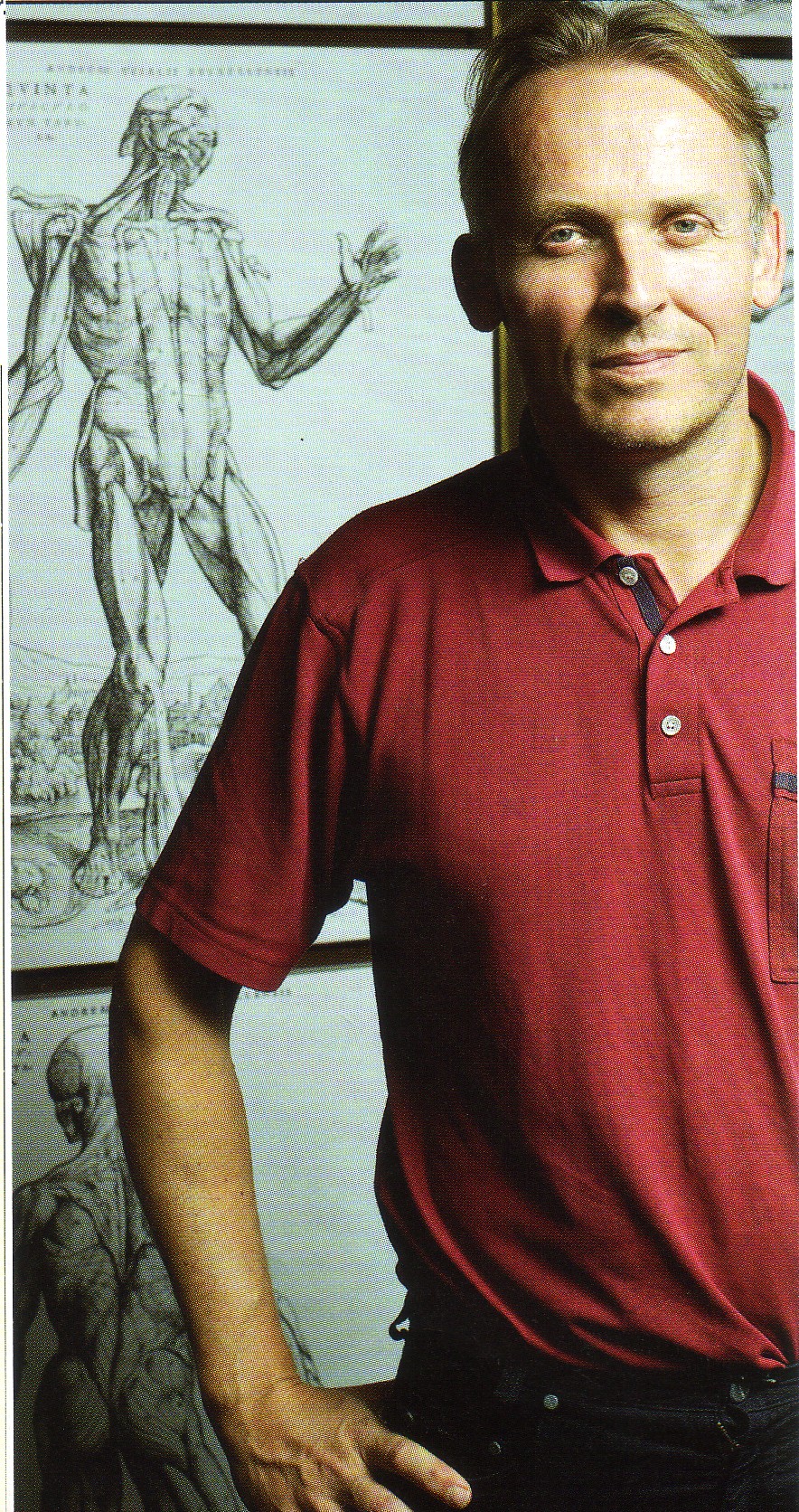 My research focuses on the computational challenge that one faces when trying to understand intelligent behavior in natural systems, or when one attempts to build artificial intelligence. For instance, intelligent behavior is adaptive and changes on the basis of past seen data; it requires integration of sensory data with prior knowledge; and it must be robust to noise. These problems are fundamental and they occur in many intelligent tasks (cf. vision, motor control, memory, etc.). They are shared by natural and artificial intelligence. My general research goal is to provide theoretical insights, models and approaches that address these issues and is at the interface of machine learning and neuro-science.
Approximate inference
Examples of early work are Boltzmann Machines: probabilistic neural networks with hidden structure that can learn complex pattern recognition tasks. In order to make learning computationally feasible, efficient novel approximate inference methods were developed, based on insights from statistical physics (1998).
This work generalized naturally into Bayesian network research, where inference is equally intractable and poses a fundamental problem for large scale application. Since 1998 until present, we have made several algorithmic contribution, such as the TAP correction, the linear response correction, various types of bounds, the Cluster Variation Method, and loop corrections for belief propagation. This work has been applied by our group to large scale applications, such as the Promedas medical diagnostic expert system and more recently to applications in stochastic optimal control. It is also relevant for computational neuro-science because brains must solve very similar problems. The insights from approximate inference methods provide guiding principles that can constrain model design (for instance, low level vision).
Control theory
Planning of actions and behavior poses another big challenge. Biological systems as well as AI systems must operate under high uncertainty. This uncertainty has many sources, for instance because of the unknown behavior of other animals or because of the noise induced by the limitations in the sensors. Thus, control of such systems is very different from an industrial robotic setting, where full knowledge can be assumed and noise can be almost ignored.
Starting in 2004, we have proposed a novel class of stochastic control problems using path integrals that can be mapped onto a Bayesian inference problem. As a result, state-of-the-art inference methods can be applied to obtain efficient algorithms. Recently, researchers at Computational learning and motor control lab of the University of Southern California have shown that this approach significantly outperforms other state-of-the-art reinforcement methods and is being applied to various robotic platforms.
The path integral theory makes quantitative predictions about optimal planning under uncertainty. One such prediction is the phenomenon of delayed choice: when uncertain about the future, it is wise to delay a decision. Experiments are currently conducted on humans that move a noisy cursor to one of two goal locations (with Stan Gielen). Initial results seem to agree with the model prediction.
This approach to control is currently applied to modeling interaction between agents. When agents cooperate or play a game, reasoning about the optimal strategy requires an assumption or model about the other agent(s) behavior. These probabilistic opponent models can be incorporated into the path integral control framework. In this way it can for instance be shown that computation of an individual agents optimal strategy in the context of a swarm of other agents becomes a graphical model inference task that can be efficiently computed using belief propagation. Very recently, it has been shown how to include an infinite recursion of nested beliefs (I think, that you think, that I think,...) in this control framework. This allows the development of agents that plan their future course of action using a model of the world that includes the intelligent minds of the other agents.
Computational neuroscience
Another line of research, that was started in 2000 and is still continued, is on the effect that short-term synaptic plasticity has on memory storage. The common understanding of long term memory is that it is stored in the synaptic connections between neurons in such a way that memory retrieval occurs as the relaxation of the neural activity to a constant spiking pattern, that represents the memory. This idea was put forward by Hopfield (1982) and others as the attractor neural network. Synaptic dynamics challenges this mechanism, since persistent pre-synaptic activity typically weakens the synaptic strength. The inclusion of short-term synaptic plasticity in an attractor neural network make memories metastable states that rapidly switch from one state to the next, depending on the sensory context. This work provides some insights on the puzzle how the brain, viewed as a dynamical system, is able to build stable representations of the world and at the same time is capable to effortlessly switch between them. With (J. Torres, University of Granada).
Data analysis
Modern experimental neuro-science has been revolutionarized by sophisticated measurement equipment, such as fMRI, MEG and others. Also, the advances in EEG measurement systems has accelerated the research on Brain Computer Interfaces. Thirdly, research tools in genetics have led to an explosion of DNA and expression data. These massive data sets require advanced data analysis tools. Machine learning methods (kernel methods, sparse dimension reduction methods, ICA, Bayesian approaches) provide the most promising approach to analyze these data.
In 2008, we have started a collaboration with Human Genetics on the genetic origin of psychiatric disorders. We analyze data from genome-wide association studies using a Bayesian approach (L. Janss with Prof. J. Buitelaar and dr. Barbara Franke). The project is funded by STW. Since this year this initiative has been extended with funding from the Donders Institute.
Another project is on the analysis of ECoG data from epileptic patients, that perform working memory tasks. The objective is to extract significant space-time structure from these data and correlate it with the tasks (V. Gomez with Nick Ramsey, UMC Utrecht).
Brain Computer Interface
Since 2009, I have started research on the design of an adaptive BCI system, based on the idea that subjects will be surprised when the BCI output differs from their expectation. This surprise is measurable as a so-called error potential. The detection of the error potential can be used to adapt the BCI device, using the perceptron learning rule (V. Gomez and A. Llera with O. Jensen, Donders Neuro-imaging Center).
Bayesian methods have a big potential for immediate application in areas outside science. There is a long-standing and quite unique tradition in the SNN group to build such application together with her spin-off companies Smart Research and Promedas. Here are a few examples:
Genetic inference
We have applied an advanced approximate inference method (the Cluster Variation Method) to construct haplotypes in complex pedigrees. The method was shown to outperform the state-of-the-art Monte Carlo sampling approach on a subset of problems. The software is publicly available. Contact Kees Albers for details caa at sanger dot ac dot uk.
Aladin is a software tool for performing efficient linkage analysis of a small number of distantly-related individuals. It estimates multipoint IBD probabilities and parametric LOD scores. Contact Kees Albers for details caa at sanger dot ac dot uk.
Oil exploration
For Shell, we built a petrophysical expert system. It estimates the type of soil and the probability that it contains oil, gas or other valuable minerals, based on drilling measurements. The system is based on a Bayesian network where the probability computation is done using a Monte Carlo sampling method. See Smart Research for further details and other products.
Victim identification
For the Netherlands Forensic Institute, we are building a victim identification system by matching of their DNA profiles against the Pedigrees of Relatives from Missing Person's DNA profiles in large databases, using a Bayesian network. See Bonaparte for further details.
Promedas
We have built the world largest and most up-to-date medical expert system for diagnostic advice in internal medicine. The system is being commercialized by Promedas bv. The system is since end 2008 operational at the Utrecht academic hospital. See Promedas for further details.
Wine and food
We have built a system that selects the most appropriate wines to combine with your food Wine wine wine.
Inleiding Machine Learning BA
Computational Neuroscience MA
Machine Learning MA
Introduction to Pattern Recognition MA
Computational Physics MA
Information, Physics, and Computation MA
Short course on control theory, ACNS
Short course on machine learning, Pompeu Fabra spring 2003
Short course on control theory, Madrid fall 2010
Short course on control theory, UCL 2011
Short course on control theory, Madrid 2012
Tutorial ICTP Summer school Machine Learning, Trieste 2012
Short course on control theory, Madrid 2013
Tutorial ICTP Spring College on Physics of Complex systems, Trieste May-June 2013
Short course on control theory, Madrid 2014

Multi-agent systems (with Thales D-Cis lab)

There are currently no vacancies ckv.docx









































































































































































































































---
Other